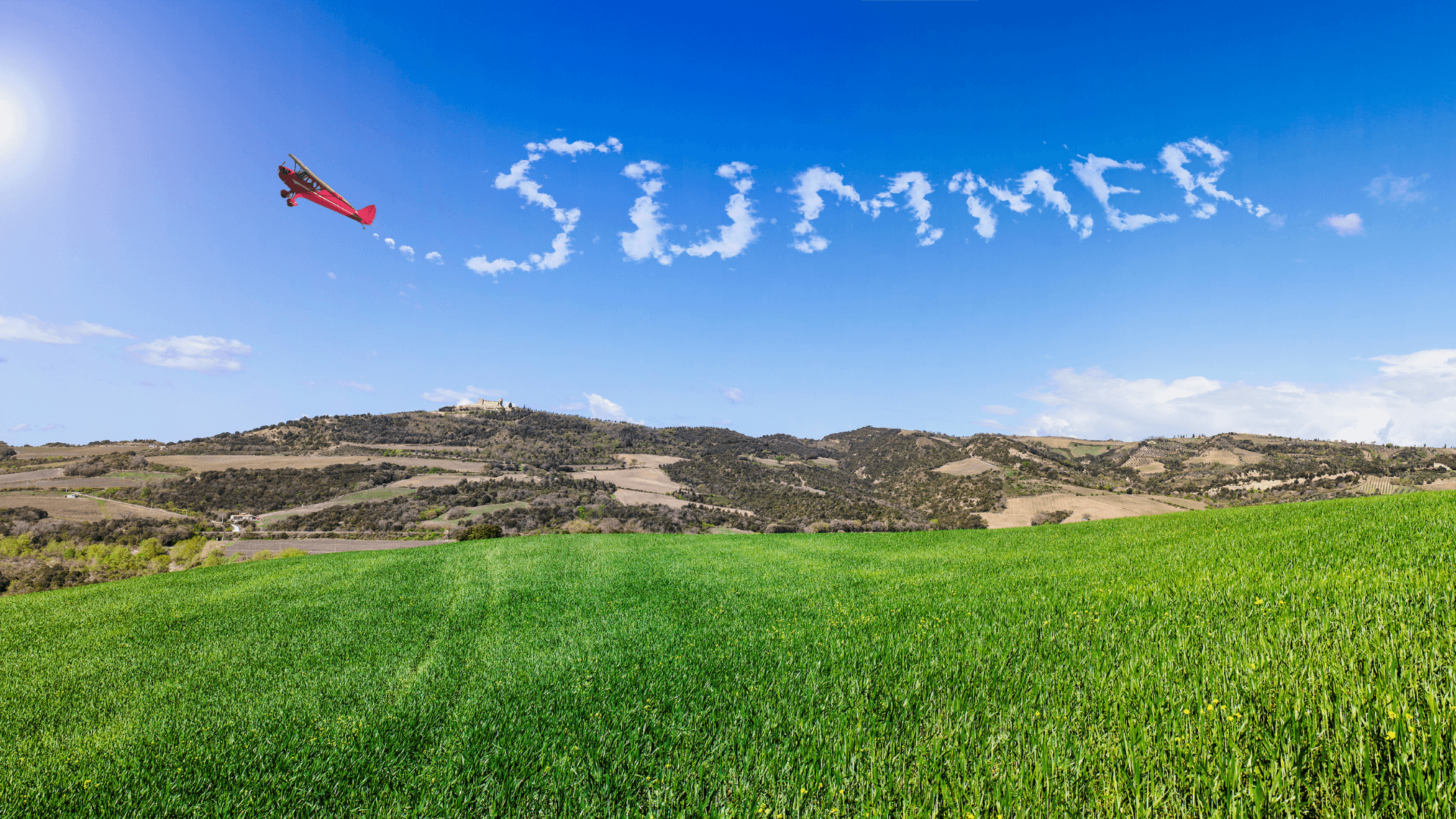 As we get closer to saying goodbye to the snow and start welcoming the sunshine and warm weather we can begin to get excited about summer flying adventures. As a flight school student, you can look forward to some bumpier rides but a much-needed reprieve from chilly engine start checklists and walkarounds. For those seasoned pilots there is bound to be a fly-in or two you are looking forward to. Maybe a few fly in camping trips, or the beginning of a new license or rating to your current credentials.
Summer flying offers some great advantages over winter flying even if you consider the downgraded performance due to the higher temperatures, density altitudes, and thunderstorm season. Here are three ways you can make the most of your summer flying.
Evening Flights
By far one of my favorite times of day to fly in the summer would be the early evening. When I was flight training I found it was much easier to book an airplane later in the day due to high demand during the morning and early afternoon. In addition, in Alberta, we often saw afternoon thunderstorms roll in that resulted in either a canceled flight or bumpy rides. By taking a flight in the early to mid-evening I found the storms had almost always passed through, the weather was calm, and the slightly cooler temperatures brought with it some beautiful stable air. Student pilots often find the flight school much quieter which means a relaxed environment and the ability to take your time and enjoy the process of getting your aircraft ready for your training flight.
Cross-country flights at this time of day are equally fantastic. The skies are usually less busy, the air calm, and the views spectacular. Sometimes as you near the later part of the day, you can experience some incredible sunsets. And, if you have your night rating you can dip into the nighttime flying to round out an excellent scenic flight. What better way to end your day than to have a great flight followed up by a beverage of your choice on a nearby patio.
Cross-Country Flying
There are a lot of unique opportunities for some great cross-country flights in the summer. A great way to build time for your commercial pilot license is to plan a flight to a great summer destination such as:
Fly-in camping
Air shows
Fly-in Breakfasts or events
Scenic tours
Vacation destinations
Grass strip, or backcountry flying
No matter where you choose to go, or why you choose to go there the important thing is that you enjoy the journey as much as the destination. Don't always plan the most direct route. If you can deviate a bit to check out some local landscapes or iconic areas as it can be well worth your while.
Again, for those student pilots, cross country flying in the summer can offer some better views and easier to see landmarks. With fields and trees in bloom, you will get much more contrast between ground features making navigation much easier.
Community
Winter flying certainly offers some flying activities, such as landing on ice runways, that brings together the aviation community. However, summer flying brings many more opportunities. Often your local flying club or flight school will host numerous events throughout the summer season. Some such events might include:
BBQ's
Corn Roasts
Breakfasts
Pub nights
Mini air shows or static displays
Hangar and airplane tours
Sorties
Getting involved in these events can be extremely important for new pilots. Whether you're flight training for recreation or career, being part of the aviation community will help you to succeed. Surrounding yourself with like-minded people who share your passion for flight is never a bad thing. Contact your local flight school to find out if they have a calendar of events this summer!
Flexible Flight Training
Enjoy your summer of flying. Whether you are new to aviation or a seasoned vet, get out and discover all that warm weather flying has to offer. For student pilots, if you want to spend your summer evenings and weekends sitting in a classroom for your ground school that's ok. But if you want to enjoy the summer evenings and weekends by studying on your own time then Online Ground School is for you. Level Flight offers a variety of online aviation e-learning courses that gives you maximum training flexibility as well as cost savings. Learn from any device at any time. Start today by visiting our Courses page or by contacting a student advisor.
To answer this we need to know what kind of pilot do you want to be. Do you want to be a private pilot and fly recreationally? Or do you want to be a commercial pilot and fly for hire? One thing to note is that flight training can be a variable cost that is dependent on each specific person's rate of progress. Be wary of anyone that will give you a solid low price figure as it may be based on an absolute best-case scenario and not average statistics. Check out the link below and click on each license and rating to learn more about the specific costs and requirements. Each one is listed in the typical order in which you might obtain them.
Generally speaking, a pilot will spend anywhere from approximately $12,000 to $100,000 to become a pilot depending on what kind of pilot they want to be. Note that ground school is the cheapest part of the flight training experience. The actual flying part of the training is where the big money is spent. Flight schools roughly charge an average of $200/hr for each flight.
If you follow a structured routine that will allow you about 6-8 hours of activity within the course per week you should be able to finish within a few months. Be sure to choose an online ground school that will give you access beyond that time so you can use the ground school as a study resource when preparing for your Transport Canada written exam.
No, we specialize in online ground school and aviation e-learning. We deliver high-quality e-learning which allows you to learn where and when you want. Many flight schools don't run ground school courses that fit into your life but would be a great school to train with. By separating your ground school and flight training provider you can find the flexibility you need.
Take Flight Now
Level Flight is Canada's best online ground school. It is our mandate to provide higher quality, more engaging training for Canadian Student Pilots. If you are seeking the exhilarating freedom of flight for a hobby or with aspirations of a career in the skies, Level Flight offers the best ground school experience available. Sign up for our online learning platform now and discover the adventure that awaits you at Level Flight.
By submitting this form, you opt-in and give expressed consent to receiving SMS / text messages, calls, and emails from us for the purposes of communication related to your inquiry or related to the products and or services we provide.