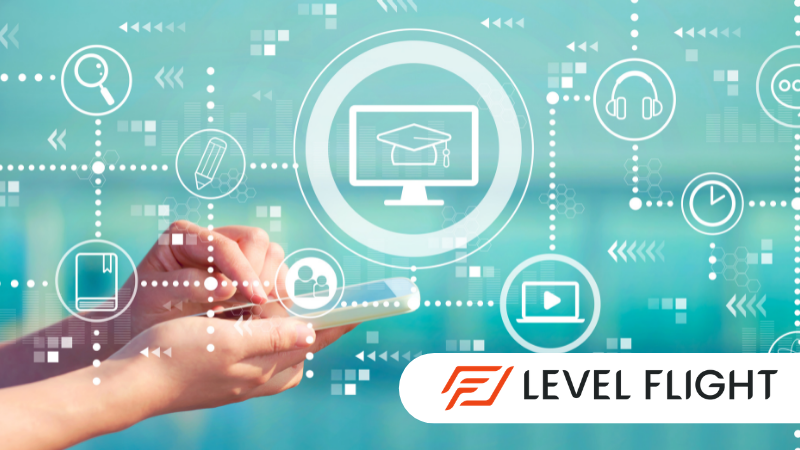 So you are thinking of pursuing higher education by working toward your private pilot licence. Or maybe a commercial pilot licence or instrument rating. Whatever your education aspirations and reasons are, there are many avenues to achieve your goals. Traditional modes of learning, including classroom, are quickly becoming cumbersome, and unrealistic in the busy lives we currently lead.
By now everyone is familiar with the opportunity online learning can present. Staying at home to learn when it's convenient for you has many benefits; but many people are put off by some of the associated nuances such as:
Old clunky disengaging platforms
Having to motivate yourself
Finding the time to commit
Staying focused
With advancements in technology and commitments of companies such as Level Flight to improve the e-learning experience you can overcome those barriers. Let's look at how to create success in the aviation e-learning environment.
Framing Your Mindset for Success
Maybe you have your own preconceived notions about e-learning, or maybe it's second hand. Either way, the idea that e-learning is second rate to classroom learning, especially for pilot training and ground school, is simply not true. Like any classroom experience, what you get out of it is a direct result of what you put into it. The caveat however is ensuring you've chosen an e-learning platform that provides you with opportunities for engagement, support, and quality content.
As you prepare for your private pilot ground school and flight training step forward with confidence. Let's take a look at some key tools for success in the online training environment.
Level Flight's free online course Tools for Academic Success In E-Learning will help ensure you are set up to leverage the advantages online learning provides.
Tools for Success
Feeling lost, or unsure of how to properly go about learning online is a normal feeling. It's new to most of us. Even if you have done a few short courses as part of your workplace training it's probably nothing like participating in a 40+ hour private pilot ground school course. Following these tips you are guaranteed the best shot at success.
Mindset - Remember, the online course is your school. Embrace the opportunities that e-learning can offer you, such as the luxury of time, affordability, and convenience.
Accountability - Prevent shortcomings by establishing routines such as times and locations where you will commit to yourself to engage with your materials.
Manage your Time and Expectations - Ensure that goal setting for your chosen timeline is "SMART" - Specific, Measurable, Achievable, Relevant, and Time-bound.
Learn to Learn - Reflect on how you learn best. Is it visually? Maybe through audio? There are always ways you can leverage your best learning style and integrate it within the e-learning environment. For Private Pilot ground school perhaps you will want to have a model airplane handy that you can reference for the theory of flight lesson.
Be Consistent - Stick with your schedule and your timeline. Yes there are always competing interests but don't lose sight of the cost/benefit of the time you put into your learning experience.
Have fun - Most importantly, have fun! Remember, learning to fly should be about igniting your passion. Engaging in private pilot ground school or other aviation related learning connects you with a community of like minded individuals even when learning remotely.
Leverage The Power of Online Learning
E-learning has many advantages for the modern student pilot. Leverage those advantages by committing to an online ground school experience that is fun, engaging, and relevant. Technology has brought the world to our living rooms. Fuel your brain, advance your skills, and follow your passions.
To learn more about setting yourself up for success with Canada's Best Online Ground School, sign up for our free course below.
Many people think e-learning should be cheaper because the experience is not as rich as learning in a classroom. This myth might be true for some courses or platforms. The truth is many well designed courses offer more than what you get in many classroom settings. There is certainly a lot of value in paying for a good quality online course. Pro tip: Cheaper is not always better.
Not with Level Flight! Some platforms may not provide much support. Our Learning Portal gives you several ways to reach out for feedback or engage other learners in discussion groups.
No. Many modern e-learning courses provide as much or more engagement than traditional classroom settings. Be sure to look for a course that offers instructor support, engagement avenues, and of course relevant content on a modern platform.
Take Flight Now
Level Flight is Canada's best online ground school. It is our mandate to provide higher quality, more engaging training for Canadian Student Pilots. If you are seeking the exhilarating freedom of flight for a hobby or with aspirations of a career in the skies, Level Flight offers the best ground school experience available. Sign up for our online learning platform now and discover the adventure that awaits you at Level Flight.
By submitting this form, you opt-in and give expressed consent to receiving SMS / text messages, calls, and emails from us for the purposes of communication related to your inquiry or related to the products and or services we provide.