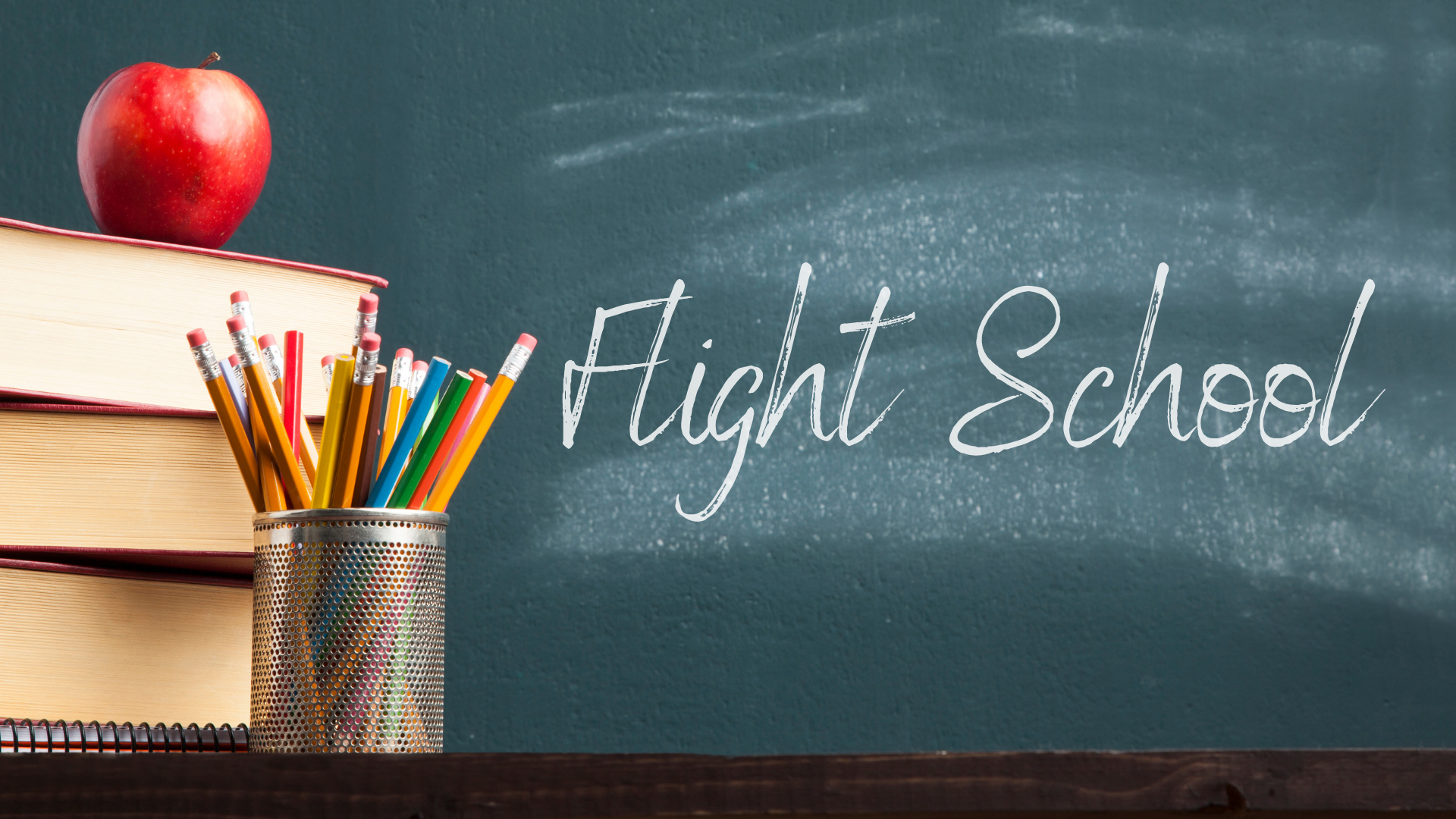 So you're thinking about becoming a pilot eh? Do it! I'm biased though. Learning to fly is one of the coolest and most rewarding adventures you can partake in. It comes with many challenges, triumphs and even failures. Getting started is often one of the hardest parts because the world of aviation is so foreign. Where do I learn to fly? What is ground school? Do I take a classroom or online ground school? Where do I find a flight school and how do I know which one to choose? So many questions! While I can't answer all of these questions in one article, we can begin to explore how to choose the right flight school. The biggest thing to keep in mind is to find one that works for you. This is your investment, what worked well for someone else might not work for you so be selfish and pick one that suits your situation.
Weighing the Options
Finding the right flight school is no different than choosing a university or figuring out which landscape company to use. There are many options to choose from and each option is accompanied by a set of pros and cons. The first thing you need to do is ask yourself some questions to identify your goals. This can quickly eliminate some schools from your list.
Are you looking for a career in aviation or a really cool hobby?
What location do you intend to learn to fly?
Are you willing to change provinces or cities to find the right flight school?
Do you have a type of aircraft that you would prefer to fly in?
Are you looking to train full or part time?
Once you have nailed down your goals you can begin your search.
Find A Flight School in 3 Simple Steps
Step 1
There are many things to look for when choosing a school but first you need to identify what schools are out there. Transport Canada has a flight training units search website that will help you find a school that meets your needs in your local area. It is strictly factual and helps narrow down your search based on criteria such as type of training offered, number of aircraft, and location. Another fantastic resource is Pilot Career Centre. This website lists all participating flight schools by region and includes a wealth of information about each school including type of training, testimonials, and aircraft types. Both of these sites are great places to begin your search.
Step 2
Once you narrow down your initial search based on your goals you can begin looking at the details. Here is where you would look for red flags (some of which we will identify later). Using your list call the school and ask the following questions:
How many aircraft do they have?
What is aircraft availability like?
What is instructor availability like? Not being able to book an instructor more than once every week or two will slow the progress of your training and result in higher costs.
What is their policy with regards to student/instructor conflict? You want to choose a school that understands personalities and instructor styles don't always complement each other and making changes when required is ok.
How long has the school been around? New is not always a bad thing as long as their staff and credentials demonstrate competency through industry experience and they are professional; clearly showing an interest in providing quality training.
What are the credentials and experience of the operators/instructors?
Is in house financing or other forms of financial aid available?
What are the classroom facilities like?
Do they have a simulator and what are its capabilities?
What type of airspace does the school operate in? Busy airspace can mean delays or longer trips to and from the practice areas. But it can also mean a more well rounded training experience.
Do they offer online ground school or virtual flight training options? Online ground school is an excellent way to make the most of your busy schedule and adapt the training to your personal needs.
Ask about course/program details including costs. Red flag - If they quote you a number that is based on minimum flight hours be aware that this will likely not be the reality as most people require more than the minimum to complete their training. In other words don't go with a school just because they claim to be cheaper.
Step 3
Now that you have called a bunch of schools and developed a good picture of what each one has to offer you can create your short list. Of the flight schools on your shortlist, find some time to visit each one. See if what they told you aligns with reality.
Speak with the staff including administration and flight instructors. Try to develop a sense of their culture and goals. You want a school that aligns with your goals. Some places are simply not the right choice for a casual learner who is not in a rush to complete their training. While others need a rigid and strict program that will ensure their completion in a timely manner. When speaking to the instructors, really try to determine if they have your best interests at heart. Red Flag - Some instructors choose to be instructors as a way to quickly build hours before departing for another job. These instructors give others a bad name. The vast majority are there because they truly believe and are invested in creating safe competent aviators. They have a passion for teaching and thrive on your success as a student. A quick note about instructor ranks. A new instructor is considered a class 4, while the most senior a class 1. Don't be put off by a class 4. They are keen, sharp, and often more available than higher level instructors allowing you more access. They also are less likely to leave for a different job mid way through your training.
Find out how ground school is scheduled. If you are choosing to go with an in-class ground school rather than online ground school, ask if they offer one that runs continuously or does it only run so many times per year?
Find out how flights are scheduled and policies around bookings and cancellations. Most schools nowadays have online booking available for self serve options.
Take a look at their fleet. Don't just look at the nicest aircraft. Look at the older ones but be aware old does not mean junk. Many training aircraft are over 30 years old but due to regulatory compliance are in tip top shape. Look for red flags such as an excessive amount of maintenance issues. This might be tough to figure out but you can ask how often aircraft tend to go down for unscheduled maintenance. While it shouldn't be excessive it is normal for aircraft to need some repairs between maintenance cycles from time to time.
Speak with other students that are hanging around, ask them how their experience is with a particular school.
Finally, if you are able to, book an introductory flight. Even if you have done one before somewhere else, it's a great way to get to know the staff a bit better and see how the operation really works.
A noteworthy consideration: Online ground school is becoming more and more popular as it provides a unique flexibility to ground training. Strongly consider taking advantage of it. And remember, just because a flight school might offer an online ground school doesn't mean it is a good solution, even if you choose them for your flight training. It is OK to separate the two in order to provide yourself with the absolute best training!
The Choice is Yours
Now it's time to choose. At the end of the day select the flight school that best aligns with your goals. Learning to fly is a costly, demanding endeavour so you want to make sure you give yourself the best shot at success. Online ground school is becoming more and more popular as it provides a unique flexibility to ground training. Strongly consider taking advantage of it. Also don't forget to check out the Google reviews for a particular school so you can spot trends (both good and bad) before you even go for a visit.
Some flight schools will suggest putting money on account which is essentially pre-paying for all or a portion of your flight training. While this can be advantageous by designating that money for flying and removing it from your bank account where it could get spent on other things there are some downsides. One other positive is that it creates an easier checkout experience after each flight since the school just has to take the credit from your account without any intervention on your part. Here's the downside. What happens to your money if that flight school hits financial trouble and closes its doors? It has happened in the past where a school will go bankrupt and close up shop leaving you without your money or your pilots licence. The choice is yours on how you manage your finances but it's wise to know the risks associated with paying for convenience.
This is something that comes up from time to time. Lets take a look at a scenario. A student is struggling to meet a standard for a specific exercise or flight test recommendation. Their instructor makes them do extra training flights that the student doesn't feel they need. While most instructors and schools will not push students to take flights they don't need, there might be some bad apples that do. If you hear of this happening once it's hard to tell what the context is. It's likely that the flights were required but one party didn't agree. If this is something that seems to happen a lot maybe there's a red flag in play. Ask the flight school how they handle these types of situations. A good school will send you for a review flight with a different, usually more senior instructor, to verify the need for extra training or provide a different set of eyes and experience to help get you overcome the roadblock.
This is a personal preference. I can tell you from experience that a college program will provide you a more in depth flight training experience. It is however not necessary to go that route. A pilots licence, whether issued from a college program or not is still a pilots licence. Some operators might look more favourably on a college program simply because it comes with a diploma or degree. Normally a candidate with a degree or diploma in a non-aviation related field will be on equal footing than the candidate with the aviation related credentials. Remember, every employer is different and oftentimes post secondary education of any kind is not a requirement for the job. It's a good idea to do your research on the jobs you wish to apply for in your career to see what the requirements are to ensure you set yourself up for success.
Another way people answer this question is by thinking about a fallback plan. What happens if flying doesn't work out for you? or You decide to go a different route in the future. Having a fall back in the form of a degree or diploma in a field outside of aviation not only makes you a more well rounded pilot but can set you up for life outside of aviation. Covid 19 has tought us that life is unpredictable and in short order you might find yourself looking for a new career path, even temporarily. You might want to consider taking your flight trainiing at a traditional flight school and complete post secondary education in an alternate field of study that interests you.
Take Flight Now
Level Flight is Canada's best online ground school. It is our mandate to provide higher quality, more engaging training for Canadian Student Pilots. If you are seeking the exhilarating freedom of flight for a hobby or with aspirations of a career in the skies, Level Flight offers the best ground school experience available. Sign up for our online learning platform now and discover the adventure that awaits you at Level Flight.
By submitting this form, you opt-in and give expressed consent to receiving SMS / text messages, calls, and emails from us for the purposes of communication related to your inquiry or related to the products and or services we provide.