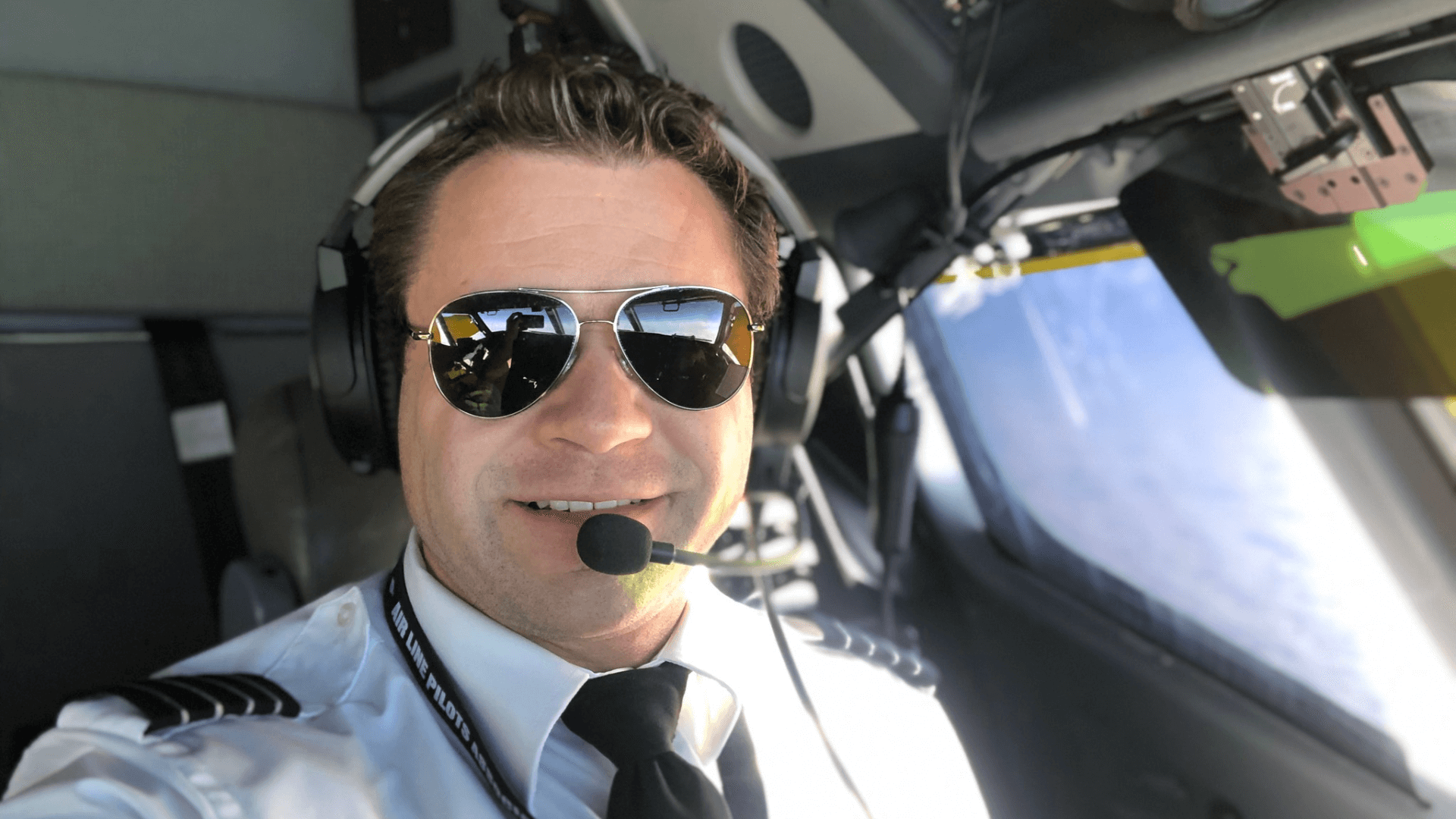 Learning to fly an airplane is one of the most exhilarating experiences a person can undertake. Taking a metal object and slipping the bonds of the earth only to experience views that are not offered any other way really do test the laws of physics. But how do you become a pilot? How did that airline or corporate pilot get to where they are today? What does the pathway to the skies look like for career pilots? The reality is that everyone's journey is different but there are some similarities.
Below I'm going to tell you about my journey from flight training to the airlines. It's been quite the ride so far but I hope you can find some value in my journey and use it to create your own pilot pathway.
Tyler Haughey
Founder - Level Flight
Private Pilot Training
It was just after 9/11 when I decided to take up flight training and become a pilot. I started by visiting a local flight school and taking an introductory flight. During this flight, I was able to take control of the airplane and fly around all while under the supervision of a qualified flight instructor. That was it, I was hooked! Immediately following the flight I signed up for ground school and booked my first few training flights. Over the next year, I worked through each training flight learning new maneuvers and skills as I inched closer to the goal of a Private Pilot License.
One major milestone during this time was my first solo. What an experience! There really is nothing like having your instructor (safety net) step out of the airplane and tell you it's all on you. The first time you take off with no one beside you and you realize it truly is all on you is both exhilarating and nerve-racking. Don't screw it up is all I could think. 20 years later I still look back on that day with fond memories.
Once I received my newly minted Pilot License I took my first passenger, my Dad. This is another major highlight of a new pilot's journey, a proud moment for both of us.
Commercial Pilot Training
From this point forward I decided I needed a fallback plan and went to school for business. While in school I didn't want to completely stall my flight training so I spent some time getting the quicker things out of the way such as my night rating and multi-engine rating.
When I finished business school I wanted to push forward on my flying and get my Commercial Pilot License so I could finally start working in the industry as a professional pilot. To do this I attended a program at the Northern Alberta Institute of Technology which no longer exists. Here I was able to earn a diploma in Aviation while getting my commercial pilot license.
This was a fun but challenging two years as I had my first major setback. I failed my commercial flight test on the first attempt. Why? I simply wasn't ready. I was pushing myself to get it done. I decided then that I would focus on getting it right rather than getting it done. It didn't take much longer but on the second try, I was much more prepared and passed without any issues. This experience ingrained in me a new personal rule that I would always go into any check ride or flight over-prepared rather than prepared or under-prepared. It's worked for me ever since!
Flight Instructing
Now I was a commercial pilot… but I had no solid plan on what the next step was going to be. My goal was always to become an airline pilot but I needed some experience to get there. I decided to get my flight instructor rating and teach for my first job. I moved back to Calgary and started my instructor training at a flight school while working dispatch on the side. It was a great way to meet new people and immerse myself in the flight training world. You will discover that networking is an extremely important part of progressing in any career, not just aviation.
After a lot of hard work, I was finally a newly qualified flight instructor. I know some people have a stigma against flight instructors but I would not trade this experience for anything. This truly is where I learned to fly. There is a saying and I believe it to be true
"To teach is to learn twice"
Boy was this true. But learning it the second time really solidified many concepts in my mind and cleared up some misconceptions that I had. My time teaching others to fly really set me up for the rest of my career.
I flight instructed for three and a half years, changed schools once, got my Class two rating, and was fortunate enough to hold the position of Assistant Chief Flight Instructor. During this time I also completed my IFR rating and began teaching Multi-IFR. This presented a new and refreshing challenge but also set me up for success in my next job, First Officer on a Beech 1900 for a large charter company
Onward and Upward
Flying the Beech 1900 was my first taste of real-world flying. The learning curve was steep but the training was good and gave me the tools to succeed. My two and a half years at this company were capped off by obtaining my first captain position on a Piper Navajo and then my second on the 1900. A pilot's first command job is another one of the many milestones in any pilot's career. I should also mention that I got this job in the first place from a contact I made while flight instructing. You never know who you will meet or how they will impact your future, it's a small industry so always maintain a good reputation.
Moving forward I was lucky enough to get my first airline job with a new regional airline in Calgary. This was another big jump in my career and came with even more challenges as I was learning a new high-performance airplane in a much larger operating environment that was even faster-paced than what I knew. Because of the nature of the growth at this company, I was fortunate enough to upgrade and hold my first airline captain position. This role was made even more special when I got to take my daughter on her first flight… I wish the landing was one I could be proud of too but it most certainly was not.
After a little more than two years at the regional airline, I was able to transition to the mainline as a first officer on the Boeing 737, my first jet job! Now it's a waiting game. The reality of airline flying is that seniority is key. You will typically sit in the right seat gaining experience and learning while you work your way up the seniority ladder to a point where you can qualify for your upgrade.
If the pandemic had not happened the upgrade would have come already. However, in a weird twist of fate, I was able to transition to our ULCC at a time when many pilots were getting laid off. This is where I would achieve my ultimate goal of becoming a Captain on the 737. Yes, the circumstances were not what I had excepted and I have since transitioned back to my first officer position at the mainline but it was a career goal I had been working toward since the early days of flight training at YYC.
I recall sitting in the runup bay in my little C172 as the huge (it seemed so at the time) 737 would taxi by and takeoff right in front of me. The day will come again when I can hold the left seat but for me, it's not as much about that as it is about flying. I love what I do and the places I go and see. The cherry on top is that through Level Flight I get to connect with so many new people and share my experiences and help them to achieve their aviation goals.
Charting Your Own Pilot Pathway
As you network and start to meet people in the Aviation industry ask them about their stories. You will notice that almost everyone begins their journey the "traditional" way with a Private Pilot License and then progresses to a Commercial Pilot License. From here the paths diverge. Some will go north and do some bush or float flying. Others will work at a flight school as flight instructors, and some will get into various charter or aerial work jobs. No matter the chosen path, or the desired end goal, there are many great opportunities to be had in the Canadian Aviation industry and you need to choose the right path for you.
To get started on your pilot training reach out to a member of our team by filling out the online contact form. Our ground school courses provide you with the most flexible learning experience possible. Our highly experienced industry professionals are ready and excited to help you achieve your goals! What are you waiting for?
An entry-level first officer will make around 45 to 50 thousand dollars annually. A top-level Captain could expect to make 200 to 300 thousand dollars a year. Of course, every company will be different. It is a good idea to consult job postings and other industry experts like the Pilot Career Centre for up-to-date information.
You need to start with a Private Pilot License and then get a commercial pilot license, multi-engine rating, and an instrument rating. From here you need to build some experience to meet the current qualification requirements that the airlines are looking for. Jobs might include flight instructing, survey or Arial work, charter flying, or bush flying. Eventually, you will obtain an Airline Transport Pilot License (ATPL). This license is not required to work as an airline pilot in the First Officer position but if you want to be a captain you will need your ATPL license.
To hold a Private Pilot License you need to be 17 years old.
To hold a Commercial Pilot License you need to be 18 years old.
To hold an Airline Transport License you need to be 21 years old.
Take Flight Now
Level Flight is Canada's best online ground school. It is our mandate to provide higher quality, more engaging training for Canadian Student Pilots. If you are seeking the exhilarating freedom of flight for a hobby or with aspirations of a career in the skies, Level Flight offers the best ground school experience available. Sign up for our online learning platform now and discover the adventure that awaits you at Level Flight.
By submitting this form, you opt-in and give expressed consent to receiving SMS / text messages, calls, and emails from us for the purposes of communication related to your inquiry or related to the products and or services we provide.