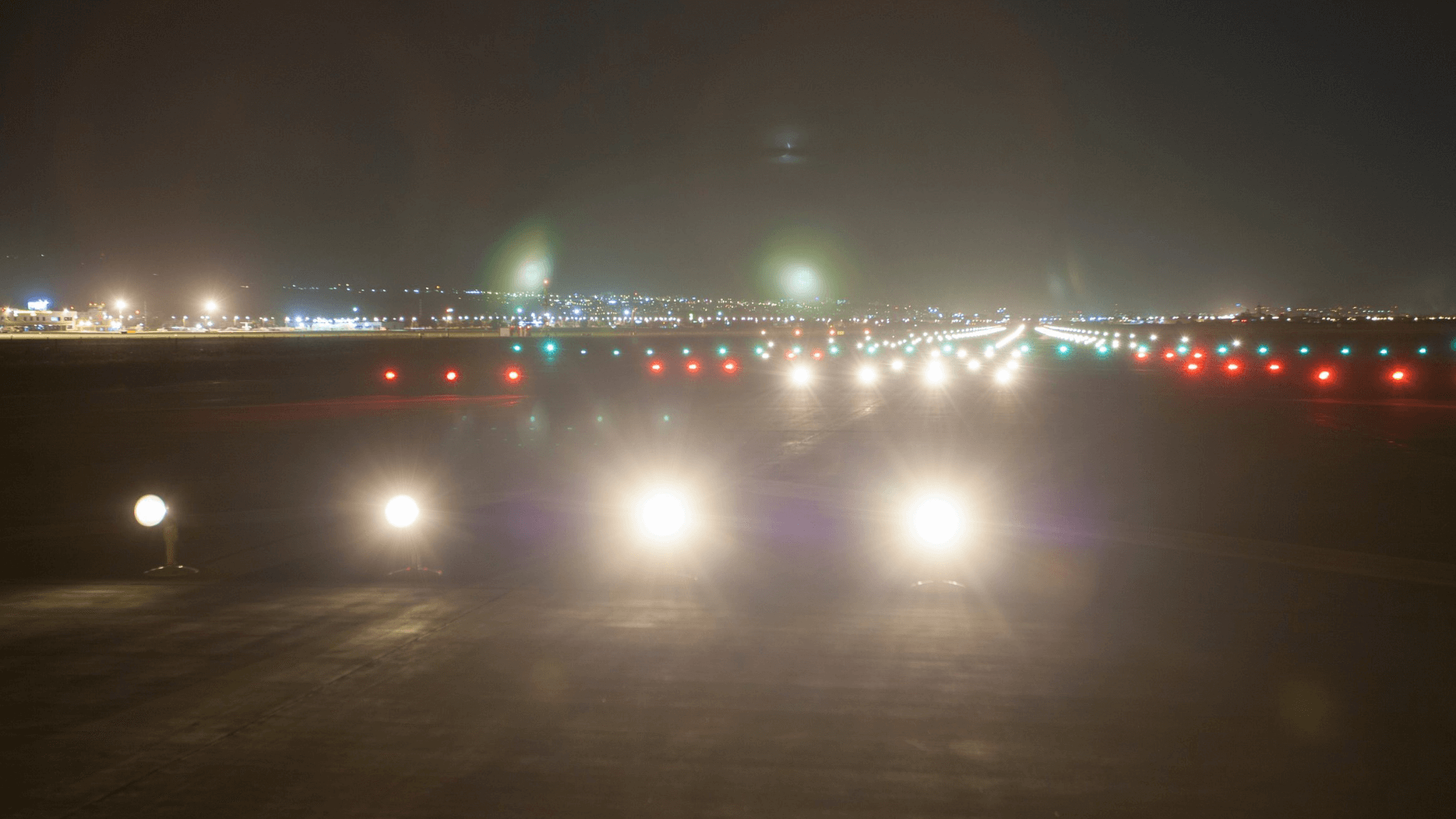 Summer is over and the days are getting shorter. This is a familiar cycle for flight schools and pilot training activities. Fall and winter is the perfect time of year to get your night rating. In some provinces where it can be light until 11:00 at night, doing night flying can often be impractical during the summer months. There is no ground school requirement for obtaining a night rating so taking a quick course or completing some self-study is advantageous. But what is all involved in getting a night rating?
Requirements
In order to begin your pilot training towards a Night Rating, you must already have a Private Pilot License. The flight training component includes:
15 hours broken down to include:

10 hours of dual instruction, 5 of which are at night including 2 cross country hours.
5 hours of solo flight training.
5 hours of instrument training. This is assuming you already have 5 hours credit from your Private Pilot Flight Training.

There is no flight test or written exam for the night rating.
Knowledge
As mentioned previously there is no ground school requirement for obtaining a night rating. Instead, self-study is recommended. Some schools will offer a seminar or online ground school to guide you through some of the theory you need to learn in order to be a safe night-rated pilot. Topics of study include:
Human Factors - Learn how the reduced visual cues affect your body during flight at night.
Aerodrome Lighting - Learn about the lighting that is available at airports. Pro-Tip: When you are flying back to an airport at night that is surrounded by a city, look for the dark spot.
Flight Planning and Navigation - Using the same ground references for VFR flight at night that you would during the day doesn't always work. You will however be surprised at how many still do!
Aircraft systems (as it pertains to night flying) - This primarily involves lighting. Did you know that you must have a landing light only if you are carrying passengers at night?
Training
The Circuit: You already know how to fly an airplane. Now you need to learn how to do it with reduced visual cues. How does an approach change when you are flying over dark terrain? How do you know when to flare when you can't see the runway as well as you could during the day? These are only a few questions that will get sorted out during your pilot training as you work toward your night rating. A large chunk of the flight training will be conducted in the circuit as you practice taxi, takeoff and landing under various conditions.
Instrument flying: The reason this is so important is that night flying can cause the same illusions and effects on the body that you would experience during a flight in instrument meteorological conditions. In a worst-case scenario, you might also find yourself inadvertently entering a cloud, in which case you will want to have enough training to safely exit the cloud. The 3rd reason instrument flight is so important is that during night flying, even when VFR, you might use radio navigation aids to assist in pilot navigation. A good understanding of how to properly use these aids is important.
Cross Country: Cross country navigation at night can in some ways be easier since towns and cities can be very easy to spot. Smaller features such as roads and railways however can be difficult to see. Not only learning the techniques for quality pilot navigation at night but getting comfortable with the new picture is critical to flight safety. Another important aspect is learning to identify high terrain and obstacles on your map since you likely won't be able to always see them out the window.
Aerodrome Lighting: This is its own topic because without lighting you would not be able to land at an airport. It is important to have a very good understanding of the types of lights you can expect to see at an airport and how to operate them. Did you know that at some airports the lighting is controlled by the pilot?
Aerodrome lighting can also aid in approach planning. While the use of PAPI or VASI lights during the day may be secondary in your thought process, during the night it should play an important role.
Joys Of Night Flying
Flying at night is some of the most peaceful and beautiful flying you will do! I always enjoy going up at night, looking at the stars, seeing the city lights from above, or if you are really lucky, catching the Northern Lights as they dance in the sky. Night flight is quiet and often far less busy than day flying. Being able to fly at night opens many new opportunities not just for the commercial pilot (it's a requirement) but for the private pilot as well. It is by far the most popular rating for any recreational pilot to obtain and a great way to expand your skills. To learn more about obtaining a night rating contact the team at Level Flight by filling out the contact form below or call 403-483-2880. To get started today you can sign up for our brand new Night Rating Ground School.
One final pro tip: Invest in a good quality flashlight or headlamp. Unfortunately, your $1500 iPhone flashlight won't cut it.
No. A restriction of a Rec Permit is that you can not add any ratings to it.
Only if you have obtained a night rating and been issued the authorization from Transport Canada.
While every student is different a ballpark cost is $4000. Depending on how much training you have already completed or the experience you have this number could go up or down.
Take Flight Now
Level Flight is Canada's best online ground school. It is our mandate to provide higher quality, more engaging training for Canadian Student Pilots. If you are seeking the exhilarating freedom of flight for a hobby or with aspirations of a career in the skies, Level Flight offers the best ground school experience available. Sign up for our online learning platform now and discover the adventure that awaits you at Level Flight.
By submitting this form, you opt-in and give expressed consent to receiving SMS / text messages, calls, and emails from us for the purposes of communication related to your inquiry or related to the products and or services we provide.