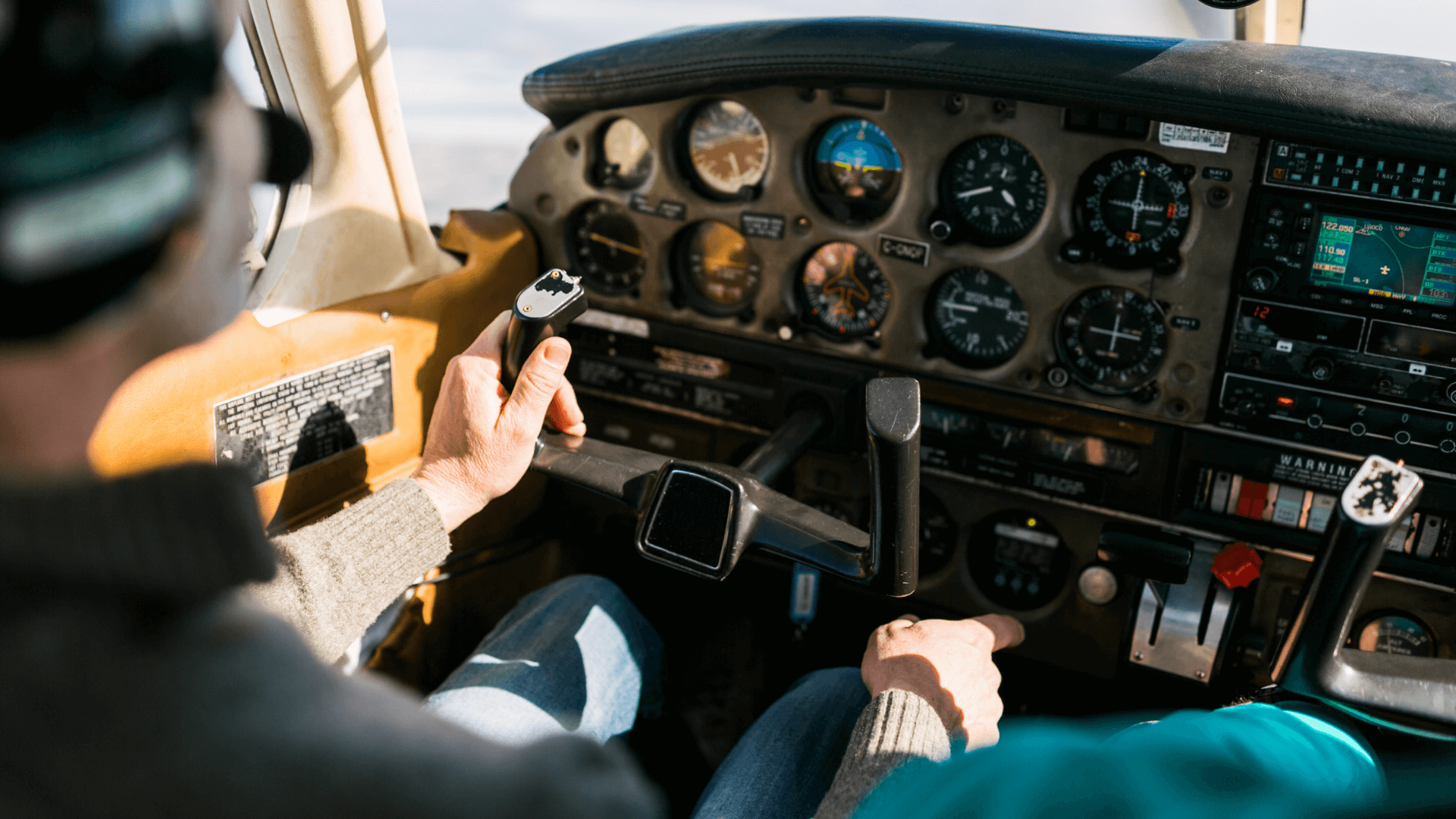 The first day will no doubt be an exciting one. Along with the excitement will be nerves, this is perfectly normal. You are about to begin the adventure of a lifetime and mixed emotions are all part of the process. Whether or not you have started any of your ground school you may find the initial days of Private Pilot flight training to be overwhelming as you try to take in all of the sights, sounds, and feelings of learning to fly. Don't worry, your flight instructor will be there every step of the way to make sure your early days are inspiring and successful!
Day 1
The first day of flight training will be a familiarization of the routine tasks to be completed prior to, and after, each training flight. Your instructor will take you through the process of completing the following:
Pre-flight walk around
Weight and Balance
Weather Check
Paperwork
Post-flight responsibilities, and
Any other flight school specific procedures
After completing all of the pre-flight duties you will spend about 10 minutes in a ground briefing where you will discuss the "mission". During this briefing you will talk about the exercise you will be working on that day as well as any theory behind it. It is important for you to remember that this should be more of a review and not a formal lesson. This means that you must do your homework and study the required material before each lesson. Showing up prepared will mean less time spent briefing, more time spent flying, and more money saved on each flight.
During your first flight, your instructor will handle most of the duties not directly related to your exercise. Talking to air traffic control, taxiing, and taking off, will mostly be performed by your instructor or delegated to you in a way that will allow you to learn these functions while not becoming overwhelmed. The first exercise you will learn is Attitudes and Movements. This exercise will get you comfortable with how to manipulate the controls of the airplane in order to make it do what you want it to do. The goal of this exercise is to get you to see and feel the movements of the aircraft and how those movements result in the desired attitude; in other words, finding your hands and feet. You will be surprised how much progress you will make in just one flight.
Every time you go up on a training flight your instructor will take control of the aircraft while teaching so that you can focus on the learning rather than the flying. At this point, they will also demonstrate the exercise you are learning and then transfer control back to you and walk you through your first attempt. After that, time permitting, you will continue to practice the specific exercise to work toward proficiency. There will also likely be some review of previously learned exercises as well.
Upon returning to the airport your instructor will likely perform the landing and talk you through some of the main points that you should be aware of so that you can start to become familiar with how to land.
At the conclusion of this first day, you should feel accomplished and inspired to return to the flight school for your next lesson. Don't worry if you feel like you've got a lot to learn, you do; but you won't need to learn it all in one day.
Pro Tip: Don't look at the end goal, just look one or two lessons ahead and take it day by day. This will help to prevent you from getting overwhelmed and allow you to make little victories until one day you look up and realize you are at the end.
Day 2
Day two will feel similar to day one however this time you will be expected to perform some of the pre-flight duties, under the supervision of your flight instructor of course. Flight training is a progressive exercise that will give you more and more responsibility for each and every flight. If you have done the required preparation and review this added responsibility will leave you feeling accomplished as you add to your skills and abilities. During this flight, you will learn and practice straight and level flight. This is considered the neutral position of any flight, one that you will need to consistently be able to recognize and maintain. Building a strong foundation at this point in your training will help lead to success later on.
Day 3
Day three will continue to build on the skills learned in the first two days. At this point, you should already be able to complete most of the pre-flight duties all by yourself with verification from your flight instructor. Your flight school procedures should be more or less familiar to you at this point only requiring you to seek clarification for a few things you might not recall. The flight will consist of learning to climb and descend. Each climb and descent will start and end with straight and level flight. You can see now how things start to build off of the previous lessons. This is why training as often as you can is one of the best methods of reducing the cost of your flight training. By consistently flying you maintain proficiency on skills previously learned requiring little review before introducing new concepts.
Build On Your Foundation
As mentioned before, the first several lessons build a strong foundation for the rest of your flight training and beyond. It is important to prepare and review each lesson so that you can spend as much time in the air practicing these concepts rather than re-learning. Everything you do from this point forward, whether you are a private pilot or an airline pilot will come back to these basic lessons. Don't be afraid to ask questions, lots and lots of questions. Your time with your instructor is your time, take advantage of it. Finally, no matter how overloaded or lost you might feel, remember why you choose to fly in the first place. Remember that Rome wasn't built in a day and neither is a pilot. Enjoy the experience, live for the journey, not the destination.
Ensure your early days at the flight school are filled with excitement, accomplishment, and joy. The experienced team at Level Flight can help you get prepared for your flight training by providing you with Canada's most interactive online ground school experience. Our team of professional pilots can help guide you to success so call us today at 403-483-2880 or fill out the online contact form below. If you are ready to start working toward earning your wings sign up for Private Pilot Ground School now!
Take Flight Now
Level Flight is Canada's best online ground school. It is our mandate to provide higher quality, more engaging training for Canadian Student Pilots. If you are seeking the exhilarating freedom of flight for a hobby or with aspirations of a career in the skies, Level Flight offers the best ground school experience available. Sign up for our online learning platform now and discover the adventure that awaits you at Level Flight.
By submitting this form, you opt-in and give expressed consent to receiving SMS / text messages, calls, and emails from us for the purposes of communication related to your inquiry or related to the products and or services we provide.