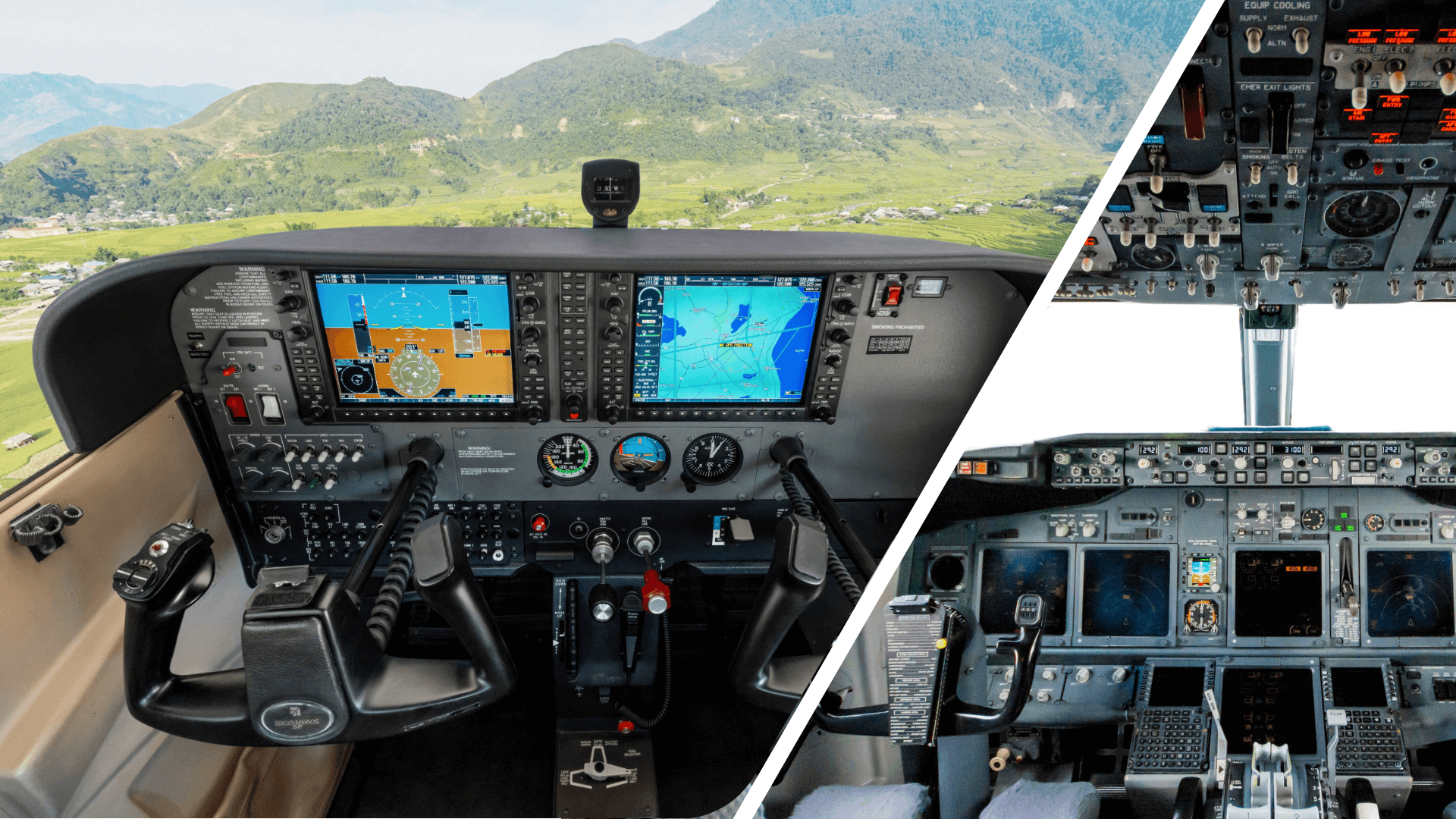 The virtual flight deck is a powerful resource that can advance any student pilot's learning beyond traditional paper trainers and chair flying. It's no secret that today's students like to integrate technology into their study habits. They cringe at the thought of simply reading from a textbook. Providing them some technology to aid in learning and they will thrive! Canadian flight schools and operators need to find ways to introduce technology into their pilot training programs to ensure students get the most out of their training experience. One easy and customizable way for a flight school and training department to do this is to leverage the Virtual Flight Deck. But what does that mean? How can students really get the most out of this unique flight training tool?
Getting the Most Out of The Virtual Flight Deck
Engage with the interactive content
The days of static chair flying or poster flying are fading. There's only so much you can do with those antiquated methods. By taking advantage of the interactivity of the Virtual Flight Deck your pilot training experience will be much more efficient. From guided training to exploration and testing the experience will be one that leaves you feeling motivated to continue learning! Don't worry, you won't lose track of where you are in the training program. The progress tracker and detailed side menu lets you jump around and always maintain your situational awareness.
Work through guided training
Free play isn't always going to help someone learn the material. The sequenced content feature will guide you step by step through the various procedures you will be expected to know. Here are the benefits of guided training for students and flight schools or air operators:
By working through each of the procedures the student will become intimately familiar with the steps required for each phase of flight.
Students will show up prepared for flights and each minute spent utilizing expensive resources will result in better use of time resulting in big cost savings!
Higher productivity and success rates for your flight school or operation will position you ahead of the competition for quality flight training.
Confirm learning through testing
Learning is only one step in the education process. It's always a good idea to verify that the student has correctly learned and/or interpreted the material presented to them. Utilize the test feature to gauge student retention and ensure they are ready for the next step!
Customize your Virtual Flight Deck
Using ultra-high-definition 360-degree photo technology the Virtual Flight Deck is best utilized as a custom course. Level Flight will design a turn-key course that is based on your procedures, aircraft, and requirements. This means your crew and students will be learning exactly what they should be resulting in maximum primacy for flight training. The best part is that this training solution is very economical for any school or operator large or small!
Introduce presentation style learning
The Virtual Flight Deck allows not only procedure-based training but presentation-style training as well. Not every piece of information that needs to be presented can be done through sequenced or non-sequenced content. Sometimes a good old-fashioned slide show is the way to go. Or better yet, combine the two to create a truly fully integrated experience. Don't worry, the team at Level Flight will build it all out for you to your specifications.
Level Up Your Training
As we move forward in the recovery from the Covid-19 pandemic the need for pilots is going to grow, and fast! Utilizing technology can help create a strong and robust pilot training program that will ensure student success and efficient utilization of expensive resources such as simulators and airplanes. Giving your pilots a tool to complete quality training from anywhere at any time creates a major advantage for your organization including
improved safety,
reduced costs, and
effective use of time
To learn more and find out how you can benefit from Virtual Flight Training contact us today by filling out the contact form below or calling 403-483-2880.
This training solution is very economical. Billed on a user basis with added course design costs each client's needs will be different. Contact the Level Flight team today for a free quote!
If you currently have your own learning management system you can operate Virtual Flight Deck through that. If you do not you can host it on our system. No other systems are required. All you really need is a good internet connection and a modern web browser and you are good to go!
Yes you can! Our photography and course design team would capture the ultra-high-definition photos needed for each aircraft and create a training program for each aircraft.
Take Flight Now
Level Flight is Canada's best online ground school. It is our mandate to provide higher quality, more engaging training for Canadian Student Pilots. If you are seeking the exhilarating freedom of flight for a hobby or with aspirations of a career in the skies, Level Flight offers the best ground school experience available. Sign up for our online learning platform now and discover the adventure that awaits you at Level Flight.
By submitting this form, you opt-in and give expressed consent to receiving SMS / text messages, calls, and emails from us for the purposes of communication related to your inquiry or related to the products and or services we provide.