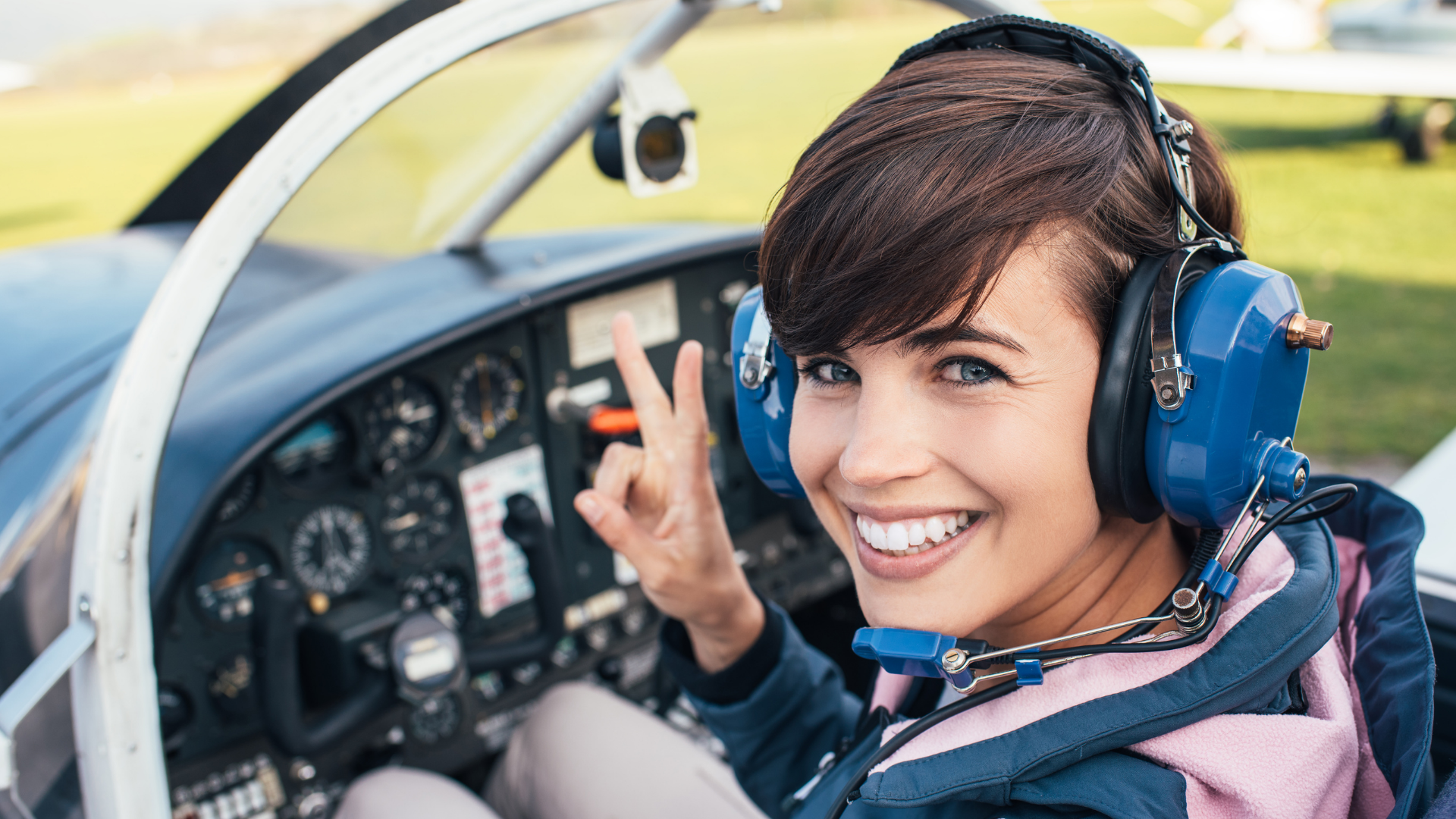 Learning to fly is a dream for many. Whether you are young and looking to begin a long career as a commercial pilot. Or you are in the later years of life looking to fulfill a lifelong dream and earn a Private Pilot License; the decision to begin flight training can be difficult. Some of the considerations that you need to include in your decision making are:
Goals
Finances
Time
Available Resources
Support
We will explore each of these so that you can move forward with confidence only worrying about such things as whether or not you have enough fuel for your flight, or which destination you want to choose.
Goals
The first question you need to ask yourself is also the easiest. What are your goals? Are you looking to earn a Private Pilot License and fly recreationally or are you looking to earn a Commercial Pilot License in pursuit of a career in aviation? Identifying your goals is important because it will define the type of time commitment, type of flying, and cost you can expect before you walk through the doors of the flight school for your first lesson. This also enables you to set up a plan of action so that you can become successful.
If you are deciding considering becoming a commercial pilot you need to consider the following:
Lifestyle
Salary
Job Prospects
Type of commercial pilot (Airline, Corporate, Bush, etc)
Reaching out to other pilots and people in the industry is important when establishing your goals They can help you learn more about the pathway and realities of the specific types of flying you are considering doing. Contact us at Level Flight we'd be more than happy to help guide you through your journey.
Finances
I'm going to be honest here, pilot training is expensive. While we won't break down the total cost to become a pilot in Canada with this article, we will talk about funding your training. No matter what your goals are it is important to have a financial plan in place. Generally speaking, there are no financial supports for earning a Private Pilot License other than traditional lending models such as a line of credit. This is because student-specific funding is reserved for training towards a job or career. When you begin training toward your Commercial Pilot License student funding becomes available as an option for financing your flight training.
Why is having a funding plan so important? As you will likely hear from us and others, the more consistent you are with your training the cheaper it will be. The most successful student pilots are those that fly regularly. We suggest booking an average of 3 flights a week. This allows you to have flights canceled due to weather and maintenance, a natural part of the flight training experience, while still maintaining consistent training. Think of it like learning to golf. If you golf once a year your skills are likely not going to advance because you need to relearn skills you lost over the past year. Flying regularly allows you to build on your newfound skills before they fade resulting in fewer flights and cheaper training. You also don't want to end up with large gaps in your training while you replenish your funds. Some options for funding include:
Part-time job
Saving for all of a portion of your training before you begin
Parental support
Bank financing
Student financing (Only once you begin your commercial pilot training)
Time
Having the time to learn ties in closely with financing. If you intend to learn to fly by training once every two weeks you are not likely going to succeed, especially in a timely manner. You will require more review resulting in more flights, longer timelines, and more expensive training. While everyone's life situation is different we suggest you be honest about the time you have to dedicate toward your training so that you can align your expectations accordingly. Just because you lead a busy life doesn't mean you should abandon the idea of learning to fly. You might have to become a bit more creative as to how you manage your time. For example, rather than taking ground school classes in-house at the flight school, you could look at an online ground school option. This will allow you to learn when it is convenient for you. When it comes to the flight training aspect, find a school whose aircraft and instructor availability align with your own. Don't be afraid to advocate for yourself and identify your time needs when searching for a flight school. The more honest you are to yourself and to your school about your timeline expectations the more everyone can work together to ensure your success.
Resources
Access to resources is important for overall training success. Not everyone is going to be living in a location where there are 5 flight schools within a 30-minute drive allowing them access to numerous resources and options. Search around your local area to find out which schools exist and what kinds of resources they have. Do they have one airplane or ten? Do they have two instructors or twenty? Do they have simulator equipment? Do they offer online ground school? Not every school will have what you need and that's ok. The important thing to keep in mind is whether or not you have access to sufficient resources to be successful in your training. Perhaps the school you want to fly at has a sufficient fleet of aircraft that suits your needs but doesn't offer a ground school that fits your timeline. No problem, take ground school online and complete your flight training with them. Don't let an initial lack of resources in your area keep you from pursuing your passion. Contact us and we can help you find a solution that works.
Support
While having a support system in place is important for any endeavor it is especially important for pilot training. If you are looking to begin a career as a pilot you need to expect hard work and turbulent times. A support system can include:
family
friends
mentors
social groups
community members
Knowing which direction you need to take in order to get to where you want to go is important but sometimes unclear. Leveraging this support system can help you identify opportunities, battle through tough times, and chart a path to success. Add us to your support network, we're here for you!
The Decision is Yours
If you were to ask us whether or not you should become a pilot our answer would be a resounding YES! The reality is that it is completely up to you. Use the tips we provided to evaluate your situation and make the best decision for yourself. The big thing to remember is that we are here for you to navigate around any obstacles that are preventing you from beginning your flight training. The team at Level Flight is ready to help you bring your passion to reality. Our team of industry experts can help you navigate not just the beginning of your training journey but the pathway to your career. Call us today at 403-483-2880 or fill out our online contact form. If you are ready to get started visit our courses page to sign up now.
Did you know that Ground School is the cheapest part of the entire flight training experience? If you are unsure about whether or not your passion or interest is enough to spend the money required to obtain a pilot license take a test drive. Many people will take a discovery flight to see if they like the experience but they don't consider the theoretical part of becoming a pilot. You have the option to enroll in Ground School before flying allowing you to get a head start on the theory to see if you really do have the drive to push through the theoretical, before jumping into the "fun" practical part where the big money is spent.
It's dependent on which two ground schools you are comparing. There are a lot of great in-class ground schools available from reputable flight schools but there are also ones that have a revolving door of instructors and outdated PowerPoint slides. This can reduce the true effectiveness of the ground school course. By going online the delivery is more consistent, definitely flexible, and oftentimes higher quality. Choosing a company that invests a lot into creating a quality online ground school can be advantageous to you as a student pilot.
If you follow a structured routine that will allow you about 6-8 hours of activity within the course per week you should be able to finish within a few months. Be sure to choose an online ground school that will give you access beyond that time so you can use the ground school as a study resource when preparing for your Transport Canada written exam.
The short answer is no. Unlike university you do not pay a "tuition" to cover the cost of your flight training. Each flight is typically paid for separately as well as your ground school and any other associated fees. That being said, if you join a college or university affiliated program tuition fees may apply. You will have to consult each institution to find out how they structure their payments. Some flight schools may also offer varying payment plans that help with the overall cost of training.
At Level Flight our ground school courses run on a monthly subscription making it the most affordable ground school in Canada.
Take Flight Now
Level Flight is Canada's best online ground school. It is our mandate to provide higher quality, more engaging training for Canadian Student Pilots. If you are seeking the exhilarating freedom of flight for a hobby or with aspirations of a career in the skies, Level Flight offers the best ground school experience available. Sign up for our online learning platform now and discover the adventure that awaits you at Level Flight.